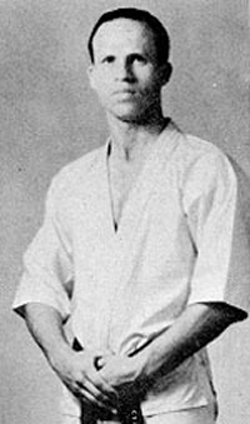 Ernie Lieb at 24 years old. He had just won the World Tae Soo Do Light-Weight Division Title in South Korea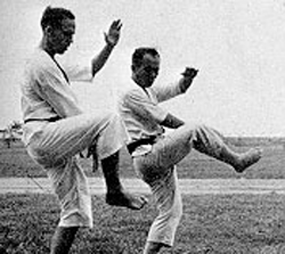 1963, Mr. Kim and Mr. Lieb practicing Kima 1
(a straight-line form kata).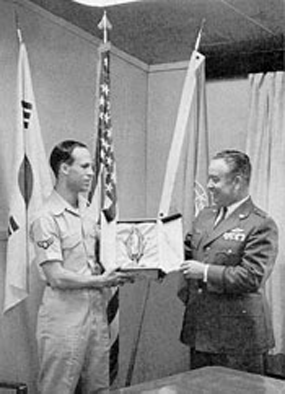 Mr. Lieb with the base commander, Colonel Sullivan. In a period of several years, Colonel Sullivan presented Ernie with many awards and trophies. They stayed in the trophy case at the Kunsan gymnasium.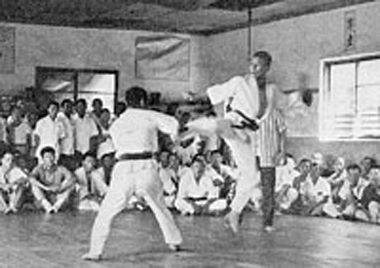 Mr. Lieb sitting on the floor at the far left of the picture. Next to him is one of the tournament referees. Notice that safety equipment was not used at over 90% of the tournaments in South Korea.
Ernest Horst Lieb was born in Berlin Germany in 1940 as Hitler's armies were devastating the European country side. He, along with his mother and father, immigrated to the United States in 1952. He became an American citizen in 1959.

At the age of 12, Ernie was a small, malnourished 67 pound boy. Life for him was difficult as he learned about the dangers of the Chicago streets the hard way. He was involved in many fights and quite often lost. He never gave up trying to win.

In 1956, Ernie discovered Martial Arts as he began his studies in Judo. He had always wanted to fight the bigger guys, but discovered that with Judo it works very much against a smaller opponent. When a Marine started teaching a Karate class at the YMCA in Muskegon, Michigan, Ernie was impressed by this art as size did not seem to matter as much as speed, determination, timing and focus. In a Karate Illustrated article written about Mr. Lieb in January of 1980, he said that this first encounter with Karate allowed him to see a future for himself. A future where his small size would not matter, and a person's dedication could allow him to excel in this sport. He started training in Karate and saw in it something he wanted to do for the rest of his life.

Lieb joined the U.S. Air Force in 1961 after graduating from High School. He was stationed in Korea, even though he had hoped for an assignment back in his native Germany. He continued his martial arts studies by joining Mr. Kim, head instructor of the Chi Do Kwan club on base. Mr. Kim's students had won the Korean National Championships five times.

Ernie earned his black belt in Chi Do Kwan in 1963, and went on to win numerous events in South Korea. Also in 1963, he was chosen as the U.S. Air Force Team captain. The same year, he won in the Korean Nationals. In 1964, he was the first American to win the light weight division in the World Tae Soo Do championships. Later that year, Ernie returned to the United States.

Shortly after his return, he founded the American Karate Association. Because of the prejudices and differences in philosophies in all of the styles, he was very displeased by the poor attitude among the different styles. No one wanted to work in harmony with one another. So Mr. Lieb created an organization to foster a spirit of togetherness, sportsmanship, and respect for all styles. A spirit where people would work and train together regardless of the style of martial arts they studied.

It was also during this time frame that Ernie's views about and American style of karate were being formed. In those first years, he used the word "AMERICAN" in front of his Korean style. In those days, using the word "American" in front of an oriental style was unheard of. It brought quick retribution; using violence against Ernie when he competed in Karate tournaments across the nation.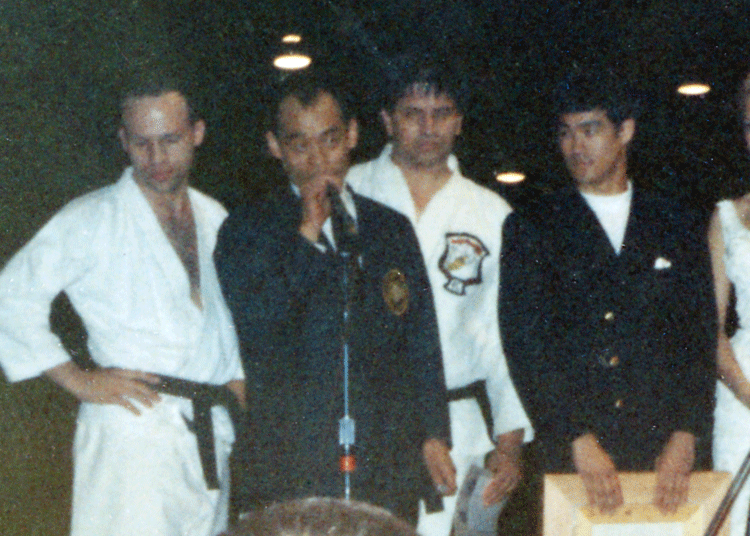 1967 - Ernest Lieb, J. Reeh, Ed Parker, Bruce Lee